The Rat Fan Club
Click here to see pictures of Debbie's rats. Updated 10/3/17
Click here to see the TV shows that Debbie has appeared on.
Here's a link to an online radio show interview I did May 2015. It also includes pictures and video!
https://www.facebook.com/pages/Critter-Chat/812845922102986
<![if !vml]>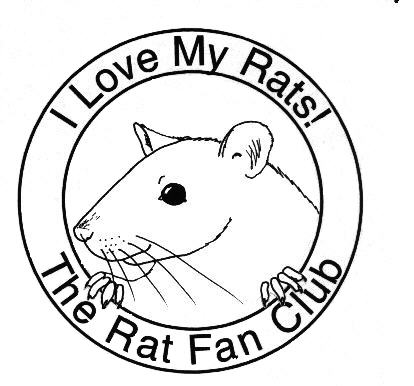 <![endif]>Debbie "The Rat Lady"
Debbie Ducommun, known as "The Rat Lady," is internationally recognized as an expert on rats. She has worked in the animal care industry since 1977 and has a background in animal training, nutrition, and animal health care. She graduated from California State University at Chico with honors and holds a bachelor of arts degree in animal behavior.
<![if !vml]>
<![endif]>
Debbie "The Rat Lady" Ducommun with hairless rat Moses.
Debbie has had numerous articles published in national animal magazines and currently writes a monthly column on small pets for Pet Business magazine. She founded The Rat Fan Club in 1992 and the non-profit Rat Assistance & Teaching Society in 2003. Debbie is also author of the book Rats! A Fun and Care Book published by Bowtie Press in 1998 and revised in 2002 as Rats, Practical, Accurate Advice from the Expert, and the book The Complete Guide to Rat Training, published by TFH Publications in 2008.
Since 1985, Debbie has been studying the health care of rats and has been a pioneer in using previously unused drugs in the treatment of many rat health problems. She has done thousands of surgeries on rats over the years, and has treated more rats than most vets. Her knowledge and experience are clearly evident in her booklet Rat Health Care, which she writes, publishes and updates regularly, and which is available on the Books page.
Debbie has promoted rats on television and radio including appearances on The Tonight Show with Jay Leno, The Howie Mandel Show, To Tell The Truth, Ripley's Believe It Or Not, Discovery Channel's Nigel's Wild Wild World, and Animal Planet's The Most Extreme: Cheats, and some other shows. She was a technical consultant on the Pixar movie Ratatouille (you can see her name at the end of the credits under Special Thanks, center column, third name down.)
Debbie has been invited to speak about rats at numerous Pet Expos, and she makes frequent presentations about rats at schools, libraries, kids' clubs and to other groups.
Debbie lives in Chico, CA with her husband Larry and a varying number of rats.
---
Here in her own words, is the story of The Rat Fan Club.
I have always loved animals, and have always wanted to work with them. I have worked as a veterinary assistant, dog obedience instructor, and humane society manager. In 1985 I left my job as manager of our local humane society to care for the laboratory rats in the psychology department at the California State University, Chico. As a girl, I'd had pet rats and fondly recalled their loving personalities and ability to do tricks.
Before I took the job in the lab I really had to do some soul-searching, since I would be involved with experimentation and euthanizing large numbers of rats. I finally decided since the rats were going to be there anyway, they deserved to have someone who loved rats caring for them. I'm very glad I did, since not only was I able to make some significant improvements in their care, it led me to establish The Rat Fan Club.
In my job of caring for the rats, I became known as "The Rat Lady," a title I wear with pride. Rat owners consulted me about the behavior and health of their rats. At the time, there was only one pet care book about rats, and it had limited information. I realized there was a need for more complete information about rats as pets. About this same time, I began free-lance writing so I decided to write a rat care book. I sent queries to book publishers but got only rejection slips.
In 1991, I decided since no publishers were interested, I would try publishing something myself. But instead of a book, I decided a newsletter would be more manageable. I tried to drum up interest in a rat newsletter with a notice at the end of a magazine article about rats I had written. I was disappointed when only eight responses showed up. But I was determined not to give up. I knew there were rat owners out there who needed information.
I decided to start The Rat Fan Club and proceeded to publish issue #1 of the Rat Report in June 1992. I sent out press releases which led to articles about The Rat Fan Club appearing in several major U.S. newspapers, including the Chicago Sun-Times and the New York Daily News. Subscriptions built slowly but steadily. It was so exciting to watch the membership climb from 10 to 25 to 100!
By February 1993 subscriptions had climbed to over 200. I started getting requests from my members for rat design merchandise such as t-shirts, notecards, and jewelry, which were hard to find. So I decided to start a catalog with both the limited merchandise I could find, and items that I designed and produced myself. The response was great enough that I expanded the Rat-alog in 1994 and added other items, such as a calendar, poster, watch, and keychains, as well as toys and treats for rats. I have added new items every year and now offer over 100. I began advertising the Rat-alog in a catalog of catalogs, which promoted The Rat Fan Club to a wide range of people.
In August 1995 membership in the club rose to 280 and although it did not bring in enough money to live on, with the support of my husband, I quit my job at the university in order to spend more time on The Rat Fan Club and publish a booklet, Rat Health Care. This booklet received excellent reviews from both rat owners and veterinarians. I have updated it about once a year.
Finally, in 1996 I received an offer from Bowtie Press to publish a rat care book and my book, titled Rats! A Fun and Care Book, was published in 1998. I'm actually glad I didn't write a book earlier because it would have been woefully inadequate. Only by sharing information with Rat Fan Club members and others has my knowledge of rats increased to the point where I now feel competent to write a good rat care book.
The Rat-alog continued to grow and in 2000 I felt it had grown to the point where it was taking too much time away from the club and other projects I wanted to accomplish. In August 2000 I sold the Rat-alog to RFC member Karen Yang.
In 2003 I decided to expand our reach by forming a non-profit organization, the Rat Assistance & Teaching Society, with the goal of educating non-rat owners, especially veterinarians, pet shops, and shelters, about rats. For more information about this endeavor click here. I became the President and began editing the RATS quarterly newsletter, Rat-a-tat Chat.
In 2004-2007 I wrote a new book about training rats, The Complete Guide to Rat Training, and TFH Publications, Inc. published it in 2008.
In 2007 I realized I was trying to do too much and decided, after 15 years, to stop doing the Rat Report and make The Rat Fan Club a free online club. With the growth of information on the internet, the number of subscribers had fallen to just over 200 anyway. At one point The Rat Fan Club had close to 600 members in 12 countries. Membership is now on our Facebook group, which has grown to over 24,000 members. To join, click on the Online Forum button in the menu.
My goal in founding The Rat Fan Club was to promote rats as companion animals and provide information on their proper care. I'm very pleased that I have been able to work toward this goal and to see the popularity of rats grow tremendously. It has been a labor of love, and a labor I'm very proud of! I believe that working for the benefit of rats and their owners is God's purpose for me here on earth.
For Debbie "The Rat Lady's" Testimony, click here.