The Rat Fan Club
---
Below is a photo diary of Jewel, one of my rats treated successfully with tamoxifen for a cancerous mammary tumor.
I adopted Jewel on 8-16-08 because her owners didn't want her or her sister any more. They had neglected Jewel and Tiger and allowed them to grow massive benign mammary tumors. I knew they were benign tumors because malignant mammary tumors never get that big. However, I knew she must also have a malignant mammary tumor next to it, which caused the huge skin ulcer on the benign tumor, because benign mammary tumors just don't get ulcers like this. During the surgery to remove the benign tumor I removed all the skin adjacent to the ulcer.
<![if !vml]>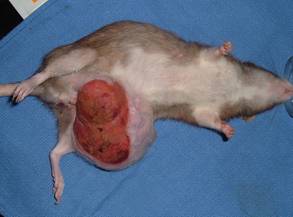 <![endif]> <![if !vml]>
<![endif]> <![if !vml]>
<![endif]>
Jewel's benign mammary tumor just before surgery. Jewel after surgery. The tumor measured 9 cm long.
Jewel recovered well from her surgery and I started her on tamoxifen on 8-22-08. She took it for a month, then violently objected to taking it, so I stopped it for a month. After that I alternated her one month on and one month off until June 2009 and she turned 3 years old! Then I stopped it for good.
<![if !vml]>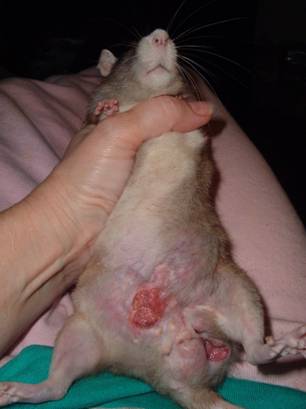 <![endif]> <![if !vml]>
<![endif]>
Jewel on 10-29-08 Jewel on 11-27-08
The major portion of the cancerous mammary tumor is on the lower right in the picture, her lower left. See how the lump next to her urethral opening has shrunk after a month on the tamoxifen.
<![if !vml]>
<![endif]>
Jewel on 2-14-09 right before surgery to remove 2 benign mammary tumors, one on her throat and one on her right abdomen. See that the only evidence of the cancer now is some skin ulcers; the lumps have disappeared.
<![if !vml]>
<![endif]>
Jewel on 3-30-09
Although she continues to have open sores that occasionally become necrotic, the main lumps have not returned. The lump on the lower left is an abscess that broke open and drained.
<![if !vml]>
<![endif]>
Jewel on 5-21-09. I suspect this is a benign mammary tumor, but I'm holding off on surgery as it doesn't seem to be growing very fast. As you can see, there is a necrotic area next to the tumor. Jewel will turn 3 years old next month, has lost weight, and has a pretty severe case of paraplegia, so I think she is a little too frail for surgery.
<![if !vml]>
<![endif]>
Jewel on 7-10-09. She is now almost 37 months old, has lost more weight and is quite frail. She has grown 2 new tumors, but again they don't seem to be growing very fast. She is like a frail 90-year-old woman, and sleeps most of the time (I'm letting her live on my couch), but she still gets around where she wants to and is happy. I keep thinking I will need to euthanize her any day, but she keeps eating and still loves to be held and petted. I never thought I would have her for almost a year! Without the tamoxifen treatment, I'm sure she would have needed to be euthanized months ago.
I finally had to euthanize Jewel on 8-2-09 when she was restless and couldn't get comfortable. She made it past 37 months of age.
---
Rat of the Week | News | Rat Info | Adopt a Rat
Reviews | Rat Books | Merchandise | Special Events
Meet the Ratlady | Links | Home
---
Rat Fan Club 857 Lindo Lane Chico, CA 95973 (530) 899-0605 ratlady@ratfanclub.org
---
Copyright 1999-2009