The Rat Fan Club
---
Megacolon
By Debbie "The Rat Lady" Ducommun
For the treatment of megacolon see the article at www.ratfanclub.org/megacolon.html
Here are photos of autopsies done on rats with megacolon.
WARNING! They are quite graphic and might be disturbing to some people.
These rats were a brother and sister from an extremely inbred litter. They were euthanized at about 4 weeks of age. Their large intestines were about 3-4 times the size they should have been.
<![if !vml]>
<![endif]>
<![if !vml]>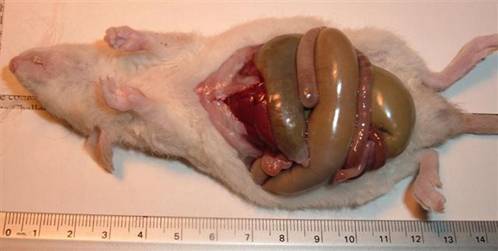 <![endif]>
<![if !vml]>
<![endif]>
<![if !vml]>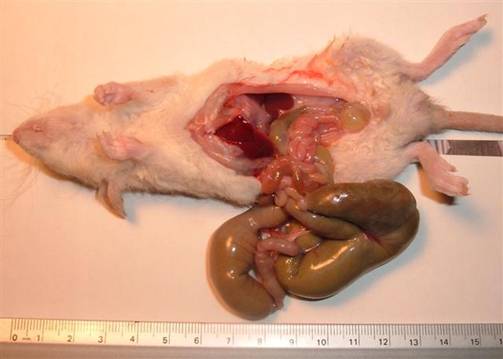 <![endif]>
The neutered male rat below was 9 months old and received the recommended treatment. However, he developed a blood clot in his large intestine which caused severe symptoms and he was euthanized. The abnormally enlarged portion of his large intestine was about 4 times normal size.
<![if !vml]>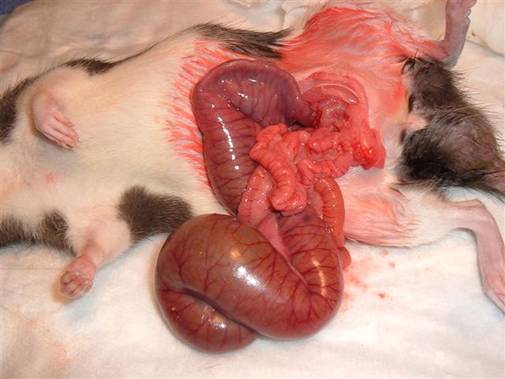 <![endif]>
The female rat below was about 6 months old and received some treatment. However, she developed a severe fecal blockage and was euthanized. The enlarged portion of her large intestine is about 4 times normal size. The fecal mass in the picture on the right is what caused her blockage. 4 ½ cm is about 1 ¾ inches.
<![if !vml]>
<![endif]> <![if !vml]>
<![endif]>
---
Rat of the Week | News | Rat Info | Adopt a Rat
Reviews | Rat Books | Merchandise | Special Events
Meet the Ratlady | Links | Home
---
Rat Fan Club 857 Lindo Lane Chico, CA 95973 (530) 899-0605 ratlady@ratfanclub.org
---
Copyright 2010